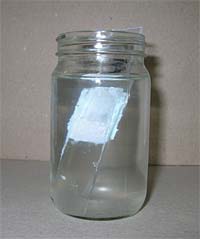 Superb Durability on Glass C-515.72HRX
A study was conducted looking at various Chartwell products in WB Acrylic DAP glass sealant. The sealant was applied to bond 2 clean glass microscope slides with a 1 inch overlap.
After 72 hours of drying, the bonded slides were placed in water at ambient temperature. Time to failure (separation) is as follows:
CONTROL
< 24 hrs
B-515.71W
48 hrs, 0.35%
C-515.72HRW
288 hrs @ 0.35%
96 hrs @0/70%
B-519.71W (new product)
72 hrs @ 0.35, 0.70%
C-515.72HRX
>9000 hours* @ 0.35% (*no failure yet!)
96 hrs @ 0.70, 1.00 %
Water-Borne Solid Stain Applied to Exterior Deck After 6 months exposure

WB Acrylic Stain 180 days exposureWB Acrylic Stain with 1.0 phr Chartwell B-515.71
(post added), 180 days exposure
Stain applied April 2001; Boston, MA area. Any peeling/ loose stain scraped and removed. Deck washed thoroughly and allowed to air dry 48 hours. Stain pad applied. Temperature varied from 28° F to 98° F during period of 180 days exposure.
WB Bonding to Vinyl Flooring/ Carpeting with WB Acrylic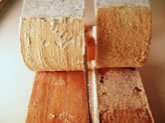 Commercial WB acrylic flooring/ carpeting adhesive. Bond assembly consisted of vinyl flooring to plywood. Adhesive allowed to fully dry for 72 hours at ambient temperature and water soaked for 168 hours. Control on left: failure mode is adhesive failure.
On right: 0.35% Chartwell C-515.71HR post-added to adhesive. Failure mode is now COHESIVE FAILURE ONLY. The adhesive strength to both vinyl and plywood is greater than the cohesive strength of the adhesive.
Powder Coatings: TGIC Polyester on CRS
ASTM B-117: 1500 hrs Salt Fog Exposure
Elimination of Creep at the Scribe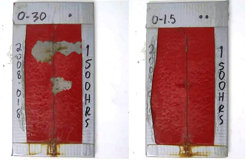 Adhesion of Polyester Baking Enamel on CRS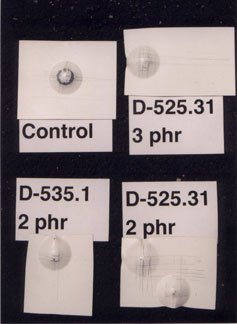 Conclusions:a
1. Without adhesion promoter (control>50% of coating removed
2. Addition of D-525.31 to the grind stage sharply reduces coating removal as follows:
Control – 50%
2phr – <1%
3phr – 0%
Current recommendations: C-515.71HR, C-515.71HRX
3. Excellent humidity and salt-fog resistance

Chartwell International, Inc.
A Company of Protex International
38 Roberts Road / PO Box 1517
Dudley, MA 01571 / USA
Email: info@chartwellintl.com
Tel: (508) 943-7630
Fax: (508) 943-6527